MICROSOFT TEAMS WEBINARS
Aurelia Nastase
Microsoft Teams Webinar, funcționalitatea oferită de Microsoft Teams este valabilă până la sfârșitul anului 2021 în cadrul planurilor Business/Enterprise, urmând ca disponibilitatea să fie prelungită de anul viitor doar pentru planurile Enterprise E3 și E5.
Pentru a utiliza Microsoft Teams Webinar este necesar să detineți o licență Microsoft 365 ce conține serviciul Teams. Toate planurile ce conțin Microsoft Teams oferă acces la noua functionalitate numită Webinars. Această funcționalitate este disponibilă, conform promoției Microsoft, până la sfârșitul anului 2021 pentru toate planurile Business/Enterprise, urmând ca de anul viitor acesta să fie disponibilă doar pentru planurile Enterprise E3 si E5.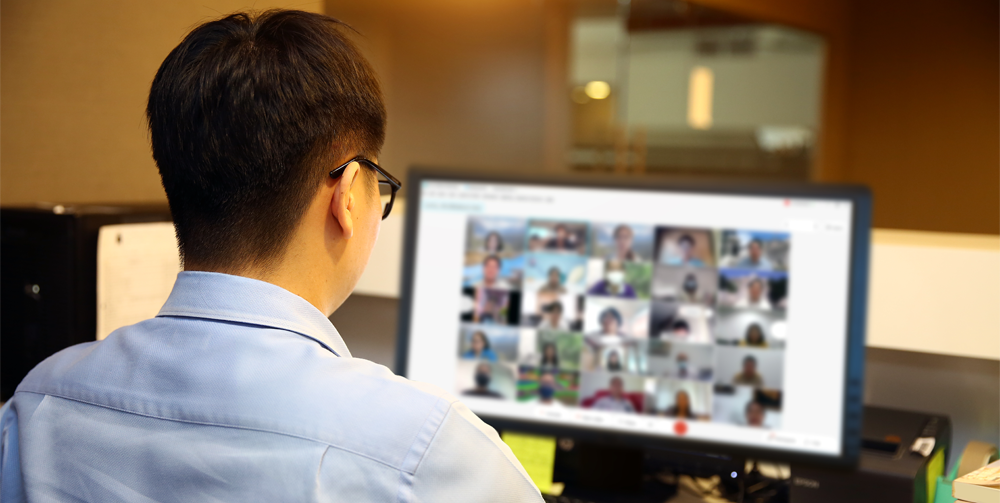 These new capabilities will be available in Microsoft 365 E3/E5, Microsoft 365 A3/A5, and Microsoft 365 Government G3/G5 plans. Microsoft 365 Business Standard and Microsoft 365 Business Premium plans will include all the features above for up to 300 attendees. And for the rest of 2021, we are offering a promotional period where all Teams users can try the features with their existing subscription. Please visit the Microsoft 365 roadmap and Microsoft Docs for additional feature details and availability.
Sursa: Click aici
În planurile Enterprise functionalitatea apare în calendarul din Microsoft Teams în drop down list: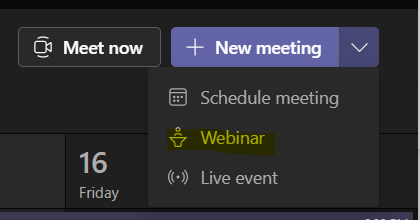 În cazul planurilor Business am doar opțiunea New meeting , însă toate facilitățile Webinars sunt incluse și disponibile pentru a fi utilizate:

Cu Teams Webinar am posibilitatea de a seta:
pagina de înregistrare pentru eveniment;
un set de întrebări care să mă ajute să calibrez conținutul webinarului;
pot descărca lista participanților după webinar pentru follow-up.
Încă din etapa creării evenimentului pot selecta tipul audienței, dacă este din interior sau din exteriorul companiei:

În tab-ul view registration form pot personaliza pagina de înregistrare pentru eveniment: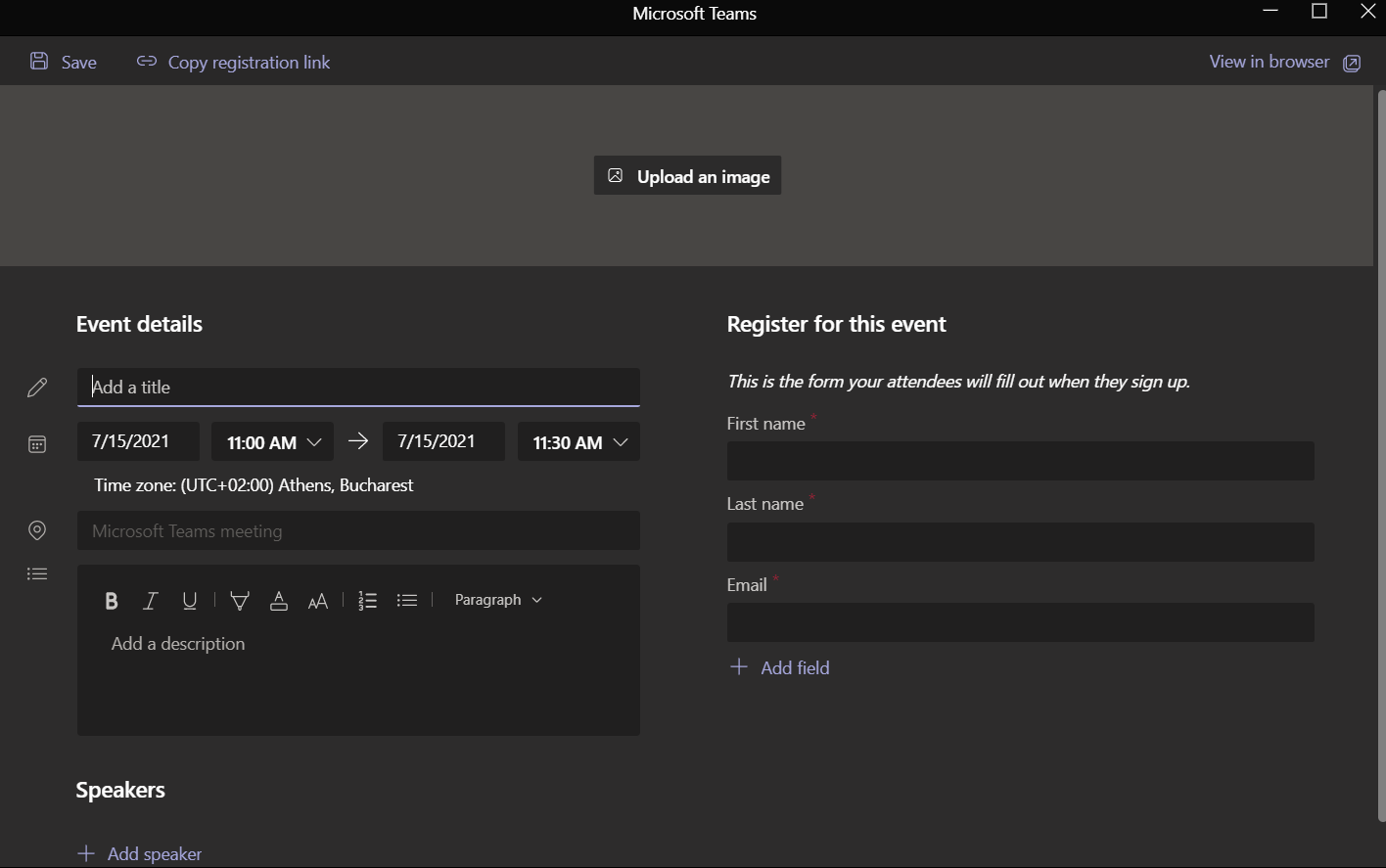 Utilizând Webinar, dupa eveniment am acces la o serie de date privind numărul de persoane ce au vizitat pagina de înregistrare, numărul persoanelor înregistrate, numărul persoanelor ce au participat efectiv, cât timp a petrecut fiecare participant în webinar și multe altele. Regăsiti mai jos un exemplu cu detaliile la care am acces: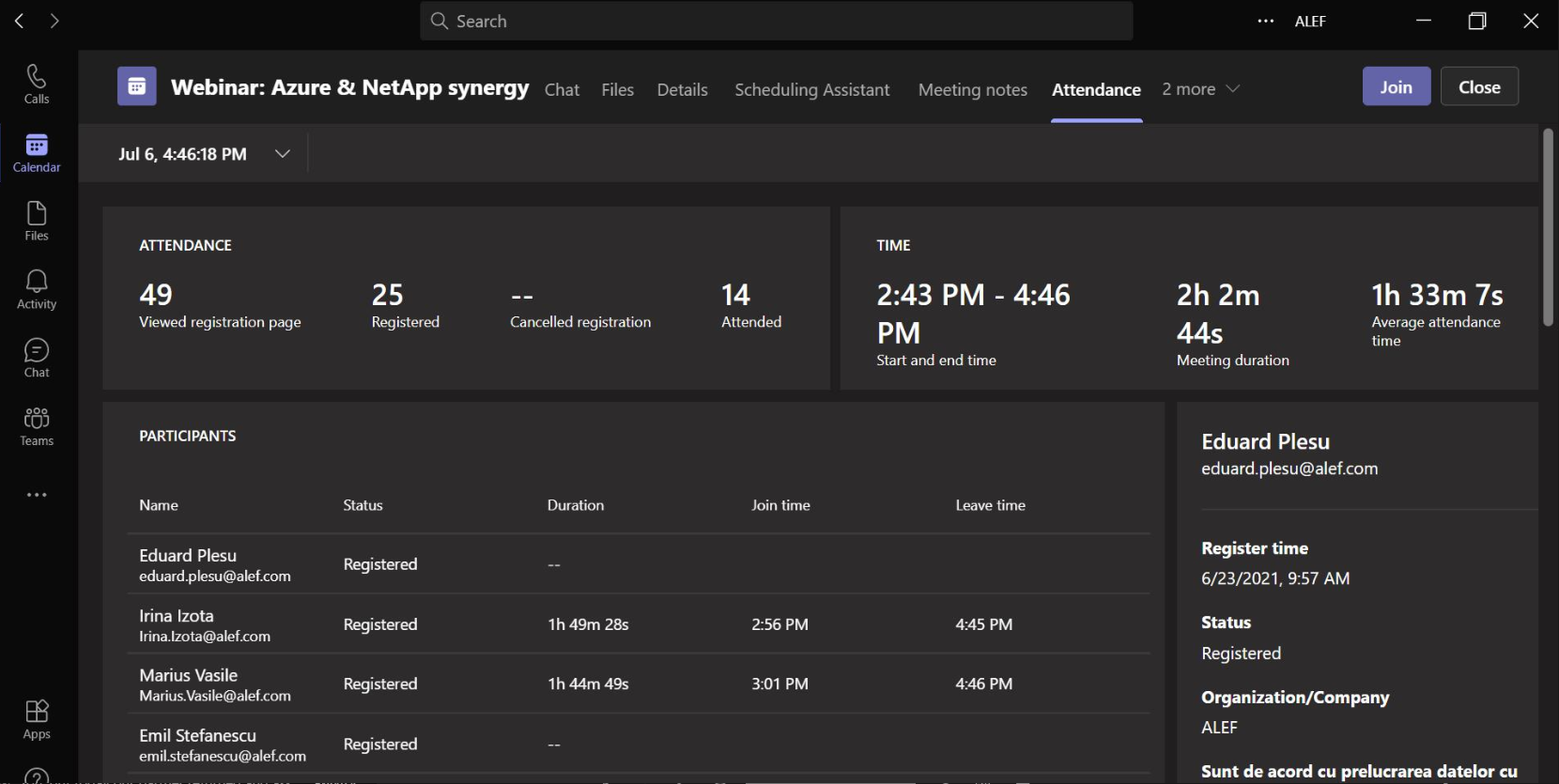 Webinariile din Teams permit maxim 1000 de participanți per sesiune.
Link-ul de participare la webinar va fi trimis dupa înregistrare către fiecare participant automat. Această notificare va include și ICS-ul pentru a salva evenimentul în calendar.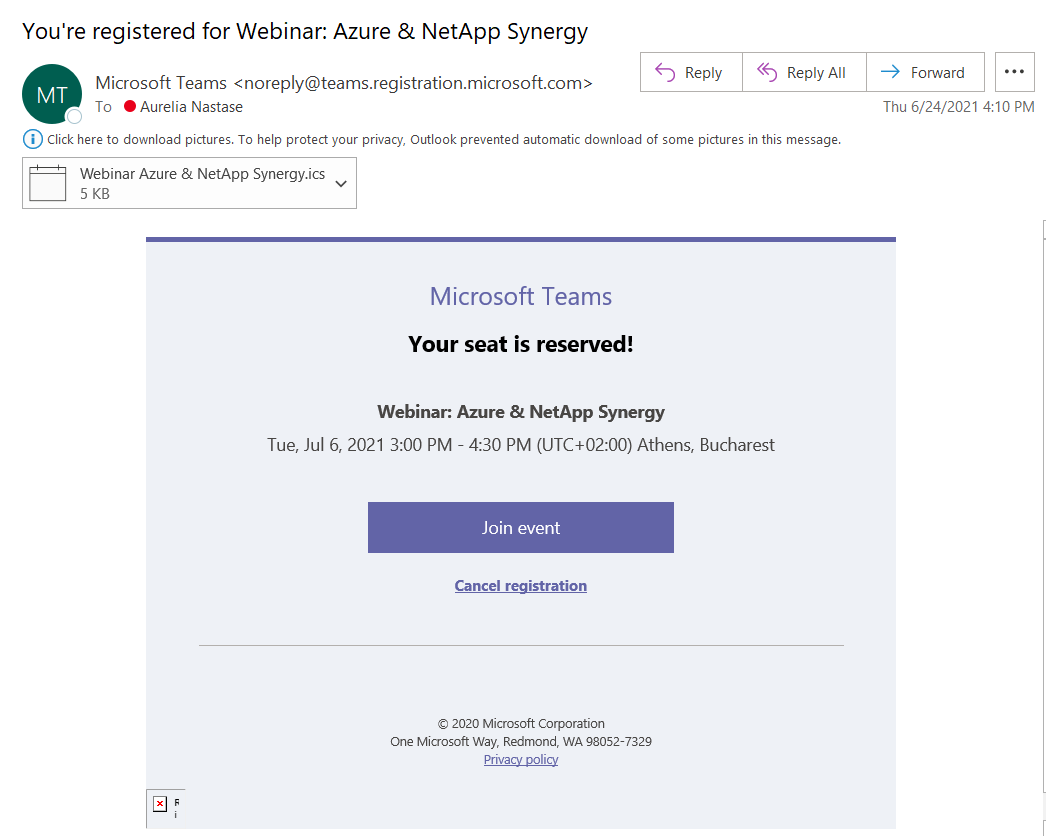 Această funcționalitatea poate fi testată atât în planurile deja active de Microsoft 365 Business, Microsoft 365 Business Standard sau M365 Business Premium, dar și prin activarea unui cont de trial.
Pentru informații suplimentare, nu ezitați să ne scrieți pe ro-microsoft@alef.com